Nubian Pyramid for Sale (64-Inch Apex)
$

165.00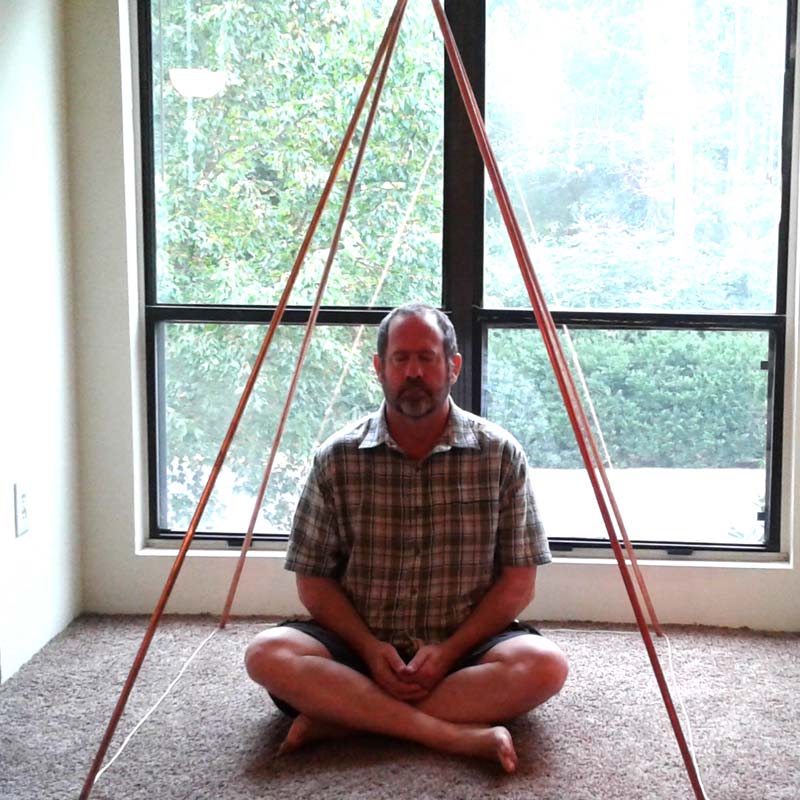 Copper Nubian Pyramid for Sale, 64-Inch Apex. Great for seated meditation on the floor (with or without pillow), or in a standard chair. No assembly. Sets up in seconds.
Nubian meditation pyramids are modeled after those found in Nubia (present day Sudan). A sharper slope, Nubian pyramids support a different pyramid meditation technique that involves a higher frequency than the Giza-style. For customers in the continental U.S., this is a non-assembly pyramid. For overseas customers, this becomes a copper pyramid assembly kit.
This portable (collapsible) copper meditation pyramid is built from half-inch, 6-foot copper pipes together with coated, copper electrical wire as its base. When set up, the top stands 64 inches above the floor, while the base of the pyramid measures about 45 inches on each side.
The 64-Inch Apex Copper Nubian allows for seated meditation on the floor, or while sitting in a standard-size chair. Includes rubber end caps to protect floors.
If you feel you need more space, please review our full list of copper pyramids online, or consider taking our walk-thru to help you choose which pyramid to buy for meditation, healing, yoga, etc.
Standard Shipping Time Frame
All pyramids are built to order. Allow two weeks for shipment from date of purchase. All pyramids ship in heavy-duty shipping boxes. Shipping charges include; shipping materials, USPS priority mail and signature confirmation (U.S. customers only). Shipments within the U.S. ordinarily take 2-3 days from ship date, while overseas packages can take up to two weeks (or more). Please take note that international customers are responsible for any fees associated with customs.
Healing Properties– Disclaimer
Though pyramids have much to offer energetically– all who purchase pyramids, being personally responsible for their own health care, are under obligation to understand that these pyramids are never to be considered a viable substitute for proper medical attention.